CoffeeCup Web Form Builder v2.9.5547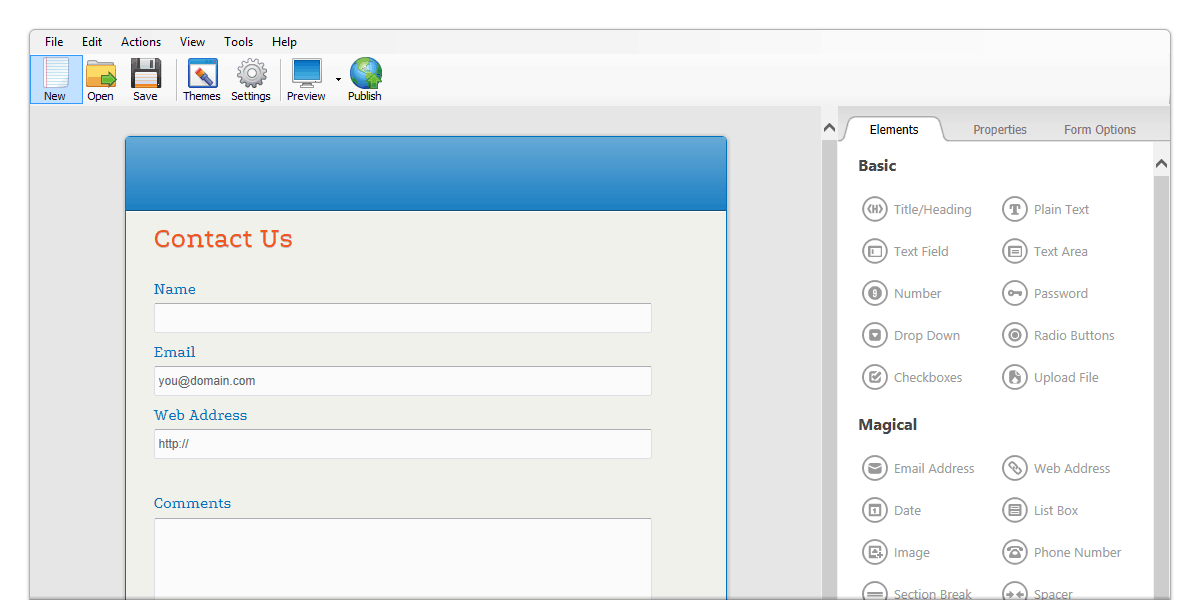 CoffeeCup Web Form Builder v2.9.5547
Responsive web forms that custom-fit any device, boosting submit rates. The form you've been dreaming of can be whipped up in seconds. Drag input fields and other form elements into place — voila, a new web form has been born!
For registration forms, order forms, surveys, invitations,
applications
, contact requests, subscriptions, and anything else you can imagine, you can tackle the unlimited possibilities as often as you want.
Customize Fields
Fill in the blanks to mold each form element into exactly what you need. Adjust text, labels, colors, and dozens of other options. With full control over design and function, you can be sure that you're getting the exact web form you're looking for.
Take it easy and tweak only the basics. Or spend a few more minutes configuring all the behind-the-scenes stuff that makes for an incredibly powerful web form. You can even make elements ​appear or disappear depending upon the actions and choices of the person filling out the form.
Use a Responsive Design
With a single click, you can apply a smart responsive theme to your form (or just use a standard one). Each theme is built using HTML5 and CSS3 web standards, so you can make any customizations you like by editing the code later. Any time you need more, you can go shop for themes!
Form Builder is the first app in the world to create responsive forms. Using responsive web design, the size of the screen displaying the form is detected and the design is customized for that specific device. The end result is a form that looks perfect on every device, every time—boosting submit rates.
Decide Where Data Goes
Form Builder will email you every time your form is filled out, if you like. You can also tell it to save form results to the S-Drive Dashboard, a database, and/or a text file.
Want to give your submitters a pleasant experience, too? Set up a confirmation message so they know everything went well when they clicked Submit. Or redirect them to another webpage. Form Builder can even send out a confirmation email so they're confident you got their info.
Make Money with Your Forms
Just take a quick moment to set up a payment provider, deck out your form with stuff you want to charge for, and watch the money roll in. Create an order form for t-shirts and let buyers choose their own color, size, and printed words. Accept donations and let the visitor pick their own price. The possibilities are endless: with so many payment options, you're on the path to success.
Form Builder integrates with many of the most popular payment providers, including PayPal, Authorize.Net, and 2Checkout. You can even choose to simply email an invoice and let the buyer take care of the payment.
Publish with One Click
Use our S-Drive Forms service to host your web forms, or upload the files to your own server. Because these forms are fully compatible with both destinations, you can switch from one to the other at any time.
You can use Web Form Builder to publish to S-Drive for with one click. Just enter your CoffeeCup account information, pick a publishing destination, and click Publish as often as you like. S-Drive gives you tons of other unique perks, too. Check out our S-Drive hosting plans
Use Our Servers or Your Own
When your form is ready for the world, Web Form Builder will upload everything to S-Drive for you and provide a link to the form. There's no need to configure anything, since form results are displayed automatically in S-Drive's smooth overview.
Plus, you can embed forms anywhere—including your shop, blog, forum, or website. Need full control? You can do that too. Just export the form, tweak it to your heart's desire, and have your own server do the heavy lifting.
Form Design Made Easy
Flawless rendering on any device that uses HTML, including iPhones and iPads.
Swap out your form theme on the fly — try on a couple for the perfect fit.
Comes with 15 pro-level themes, and more are available in the form theme store.
Responsive themes ensure that your form looks perfect on every device—big or small.
Add friendly hints and placeholders, making your forms easier and friendlier to fill out.
Forms are Section 508 accessibility compliant. (Trust us, this is a good thing.)
Set a default value for certain fields. They'll be submitted if the visitor doesn't change them.
Drag-and-drop your form elements to rearrange them.
Utilize autofocus fields. (Give your visitors a starting point.)
W3C-valid HTML5, CSS3, even graceful degradation—more awesome than it sounds!
Set the positioning of your field labels across your form.
Define the font family, size, and color for your form, then (optionally) customize them for each label.
Use multiple columns together with the sweet "Spacer" Magic element to fit lots of fields on one page (oh, the possibilities…)
Customize Section and Field colors.
Full control over the form header and footer: Add backgrounds, control heights, insert your logo, and yeah, more!
Add images and icons for an ultra-snazzy design.
Customize the stylesheet for maximum control. (You'll be able to import your changes.)
Templates for event registration, contact forms, customer surveys, reservations, RSVPs, and more.
Control the positioning of the most important form element of all: THE SUBMIT BUTTON.
Take advantage of multi-page forms (because mega-forms sometimes need to be split up into chunks).
Yeah, You Can Build That, Too
Complex forms are a cinch to create and design.
Super-duper Payment options (to make money from your forms).
Use display rules to show and hide form elements based upon the actions and choices of the person filling out the form.
Mark fields as "Required" and show appropriate warning messages if necessary.
Automatically validate user input by field type (and get more reliable data).
Automatically verify user input for email and password fields. (Type it twice to eliminate errors.)
Define value ranges and interval steps for number fields.
Use a stylish calendar for picking dates and choose from a wide range of calendar date formats.
Use hidden fields (for your eyes only).
Use magic fields: Pre-configured field combinations you'll love!
HTML element lets you include blocks of HTML code (or jаvascript, if you're an expert).
Multiple files can be uploaded at once.
Full UTF-8 support: Use practically any language in your form.
One-click captcha support with reCAPTCHA v1 & v2 to protect your form against spam.
Multiple reCAPTCHA theme options.
Write your very own field validation rules using regular expressions (10+ examples included—bam!)
Control the width and padding for each individual field element.
Control the submit button position and use custom button images.
Add a link to your logo and form images.
Use contact lists so that results can be sent to a department chosen in the form.
Use left, right, centered, or justified text alignment.
Publication and Sharing
One-click form publishing to S-Drive.
Use a unique URL to easily share/link a full-page form.
Easily embed your form in your website, blog, shop—wherever you want it!
Full code control: Export and edit the HTML, CSS, and even PHP files however you like.
Baby's got back-end
Get a comprehensive overview of all your forms using S-Drive.
Use automated form processing. Get results without touching a friggin' database.
Use your own PHP server but have your hosting provider upgrade it to PHP 5.3, alright?
Support for PHP SMTP Authentication. (Use your own SMTP mail server, if you're into that.)
Send your customer a fully customizable email upon form submission. You can include data they entered in the message, too.
Supply a custom "From" address for auto-response messages.
Redirect your visitor to a specific URL after form submission.
Show your visitors or customer a custom message after submission.
Be notified by email every time a form is submitted.
Log your form results to a MySQL database, CSV file (comma separated values), or both!
Easily
download
form results as a text file.
Contact list option for routing form submissions to the appropriate address.
Automatically post submitted texts and attachments to web pages and photo albums.
Automatic Form Statistics with S-Drive Hosting.
Get an instant overview of form stats, including conversion rates.
Automatically store and report on form results — sweet!
See how many people looked at your form.
Track how many people started filling out your form.
See the number of submissions for every form, in one single view!
IP address and submission timestamp are automatically added to the form results.
3rd Party Integrations
Grow and manage email mailing lists using the built-in MailChimp integration.
Integration with payment providers like PayPal, 2Checkout, and Authorize.net.
Integration with other 3rd party services like Eventbrite, Facebook, and others.